Home inspection requirements for all Cornerstone Home Inspection Co. home inspectors: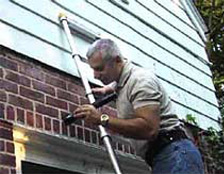 All home inspectors:
Must have a NJ state home inspectors license or be fulfilling the requirement.
Must have a NJDEP radon technician license.
Must have experience in the building trade or related fields.
Must be able to identify mold and asbestos-like material even though they are outside the scope of a home inspection.
Must have a good attitude and be a people person.
Are equipped with the latest high tech inspection equipment.
Are trained to use the latest high tech Carbon Monoxide Tester.
Carry the latest high tech testing equipment.
Are proficient in plumbing, electric, structure, heating, roofing etc. They are well trained professionals in all areas of the home inspection.
At all times they are very conscious of the fact that they work for the BUYER, and will report in detail exactly what they discover.
Are insured for $1,000,000 liability.