The water is gone, but the mold remains.
Thousands of people are returning to their homes to discover mold, which can lead to a variety of health problems what include aggravating or exasperating coughs, colds and asthma they already have. Some of these people have no choice, because they have nowhere else to go and with winter fast approaching and overnight temperatures hitting the freezing mark. So it's a double edged storm. Sleep in the cold, and increase your risk for a cold, or sleep in a moldy room, and increase the chance of having respiratory problems.
In a report from the Associated Press, the amount of emergency visits from colds and coughs in November has doubled.
New Jersey has already asked for over $30 billion in relief from the government to help the cleanup.
If you're deciding to start cleaning up your home, it's still recommended you get a home mold inspection. Cornerstone Home Inspection provides mold inspection services for Union County New Jersey, which was one of the hardest hit areas.
Just because the rooms in your home were cleaned by a professional cleaning company, don't take that chance an risk there being mold left behind. Get a home mold inspection and truly start on a clean slate.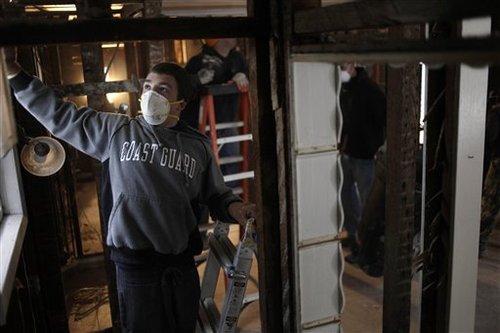 Photo Credit (AP) — Sean Marelli, 15, helps to gut his family's home in Sea Bright, N.J., Monday, Nov. 19, 2012. The first floor of the home was inundated with water during Superstorm Sandy and they are trying to save it by stripping it to the studs, letting it dry, and combating any mold that might grow. (AP Photo/Seth Wenig)