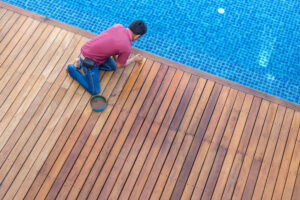 Many people dream of owning a home with a pool in the yard. That's a good dream to have, because pools can be so refreshing on hot summer days. That said, pools can also present some problems for homeowners. What if the pool has a crack, hole or leak somewhere? Yikes. What if the attached deck is rotting and could pose a hazard to the little kids playing on it?
Home Inspectors Can Look at Pools Too
If and when you plan to buy a New Jersey home in the near future, you should definitely hire Cornerstone Home Inspections to inspect not only the house, but the pool as well. Don't buy a home with a pool unless you have it professionally inspected first. Why have the pool professionally inspected? Inspectors can tell you whether or not the pool is up to code. Does it meet or exceed local regulations? For instance, some municipalities require pools to have a fence, and there are specific details regarding fence height, construction materials, gate regulations, etc. How would you know if the pool you'd end up owning is in compliance with local codes/regulations? An inspector could tell you. After all, you don't want to end up paying fines because your "new" pool isn't up to code.
Next, you have to think about costly repairs. Pools do not age well! An inspector can tell you the condition of the pool, checking the pump, vinyl liner, etc. If a pool has "too many repairs needed," you might not want to buy that particular property, unless the owner fixes everything in time for the sale. Other things that might need inspection include pool lights, heaters and filter pumps, all of which use electricity. You want to make sure the pool's electrical systems are in good working order.
Finally, there's the deck or patio that surrounds the pool. An inspector will let you know if he or she finds any "red flag" issues. If there's a deck, you'll discover whether or not it's structurally sound. For safety's sake, this is definitely something worth investigating, since you don't want to have kids falling through the floor and hurting themselves.
Cornerstone Home Inspections of Warren, New Jersey, can be reached by calling 1-800-648-6187.